As an investor, it's critical to stay up to date with all the stock market changes. Knowing when stock exchanges will close or open for certain holidays can mean the difference between a successful trade and a missed opportunity. Making sure you know which days of the year are stock market holidays and having a plan can help you be better prepared for any situation.
Some stock exchanges may close or open on different days than usual, with some holidays being observed on a Friday or Monday if it falls on a Saturday or Sunday, respectively.
To stay prepared for potential changes, here is the 2023 stock market holiday schedule as a reference: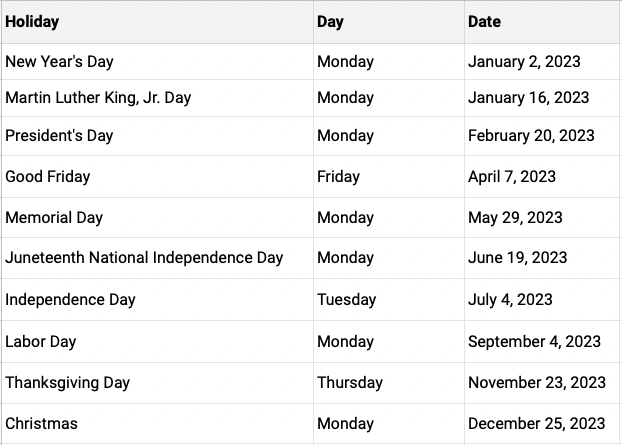 Markets will close at 1:00 PM EST on the following dates:

Bond Market Holiday Schedule 2023
Every year, the bond market follows the U.S. national holiday schedule. However, it has two additional holidays and some pre-holiday days closing earlier than usual.

The U.S. bond market closes at 2:00 PM EST on the following dates:

Happy holidays!