As the second quarter of 2023 begins, investors are closely monitoring the stock market for potential investment opportunities.
With the market's constant fluctuations, it can be challenging to determine which stocks are worth watching. In this blog post, we will look closely at three stocks expected to make significant moves in April 2023. These stocks have been carefully selected based on their recent market performance, fundamental analysis, and technical indicators. Keep reading to find out more about these three stocks and why they should be on your radar this April.
In 2023, Nvidia experienced a staggering 79% surge, largely attributed to its promising cloud and AI prospects.
Analysts project the company to earn $5.78 per share in the fiscal year 2025, significantly surpassing the $4.38 EPS estimate for 2024. This growth potential has reignited investor excitement. However, it's worth noting that the forward 12-month PE currently stands at a pricey 56X.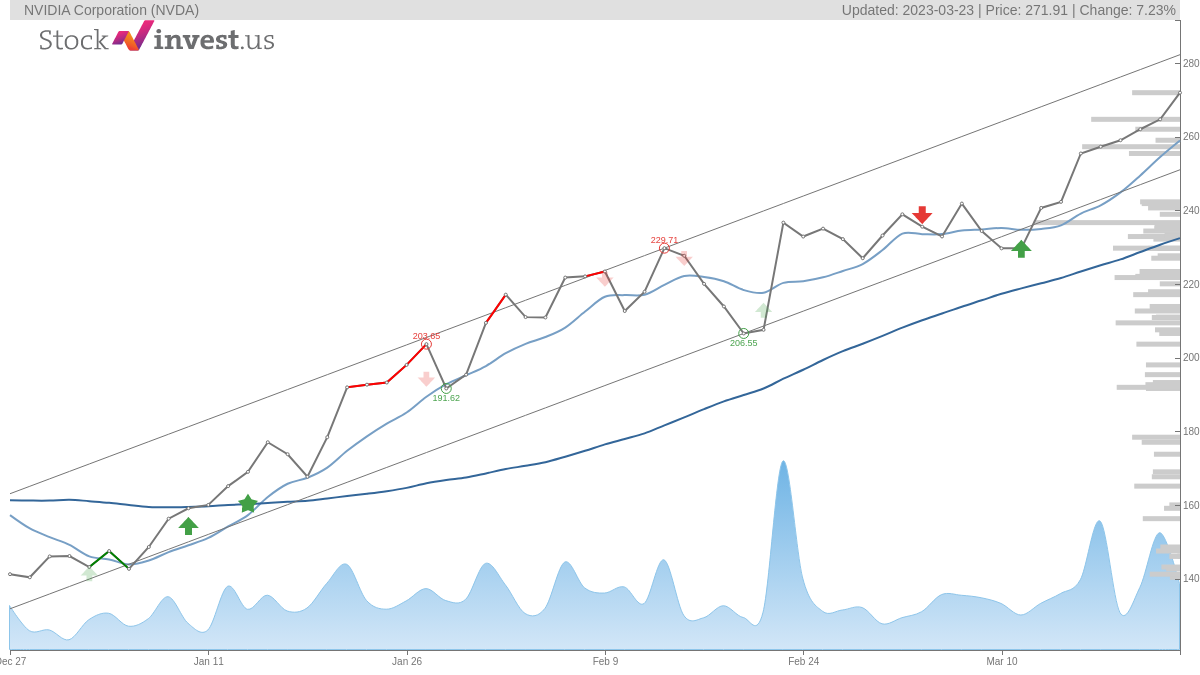 In the short term, the stock is situated in the middle of a robust and expansive upward trend, with indications of further growth. Based on this trend, experts anticipate a good rise in the next three months, with a 90% probability of the stock trading between $434.44 and $488.51 at the end of the period.
The year-to-day performance of ELF is positive, which is now 194.29%. It is worth mentioning that the e.l.f. Beauty Inc's share price grew by 0.0252% during the last month.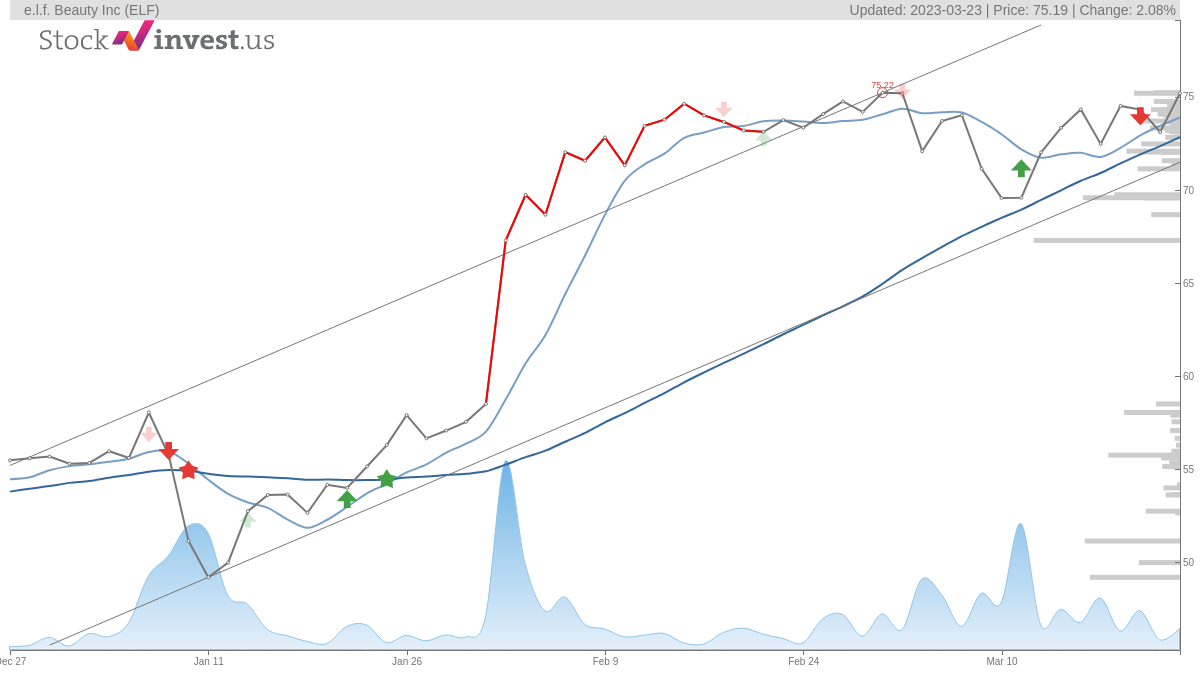 An actual P/E ratio for ELF is 89.94. Last quarter e.l.f. Beauty Inc had a positive earning of $0.360 per share. The consensus amongst analysts for next quarter is optimistic at $0.160
ELF belongs to the Household & Personal Products industry, which is a part of the Consumer Defensive sector. Our algorithm ranks ELF as a Buy Candidate, scoring 4.83. This puts ELF as the 2nd best trading candidate in this industry based on this StockInvest.us score.
Several short-term signals and a good general trend are positive, and we conclude that the current level may hold a buying opportunity as there is a fair chance for e.l.f. Beauty Inc stock to perform well in the short term.
In 2023, the stock surged by 14%, thanks to the company's solid growth profile and a few big product launches. Additionally, MSFT offers a modest dividend yield of 1%, making it an attractive option for growth-oriented investors and a 3-year sales growth rate of +16.5%.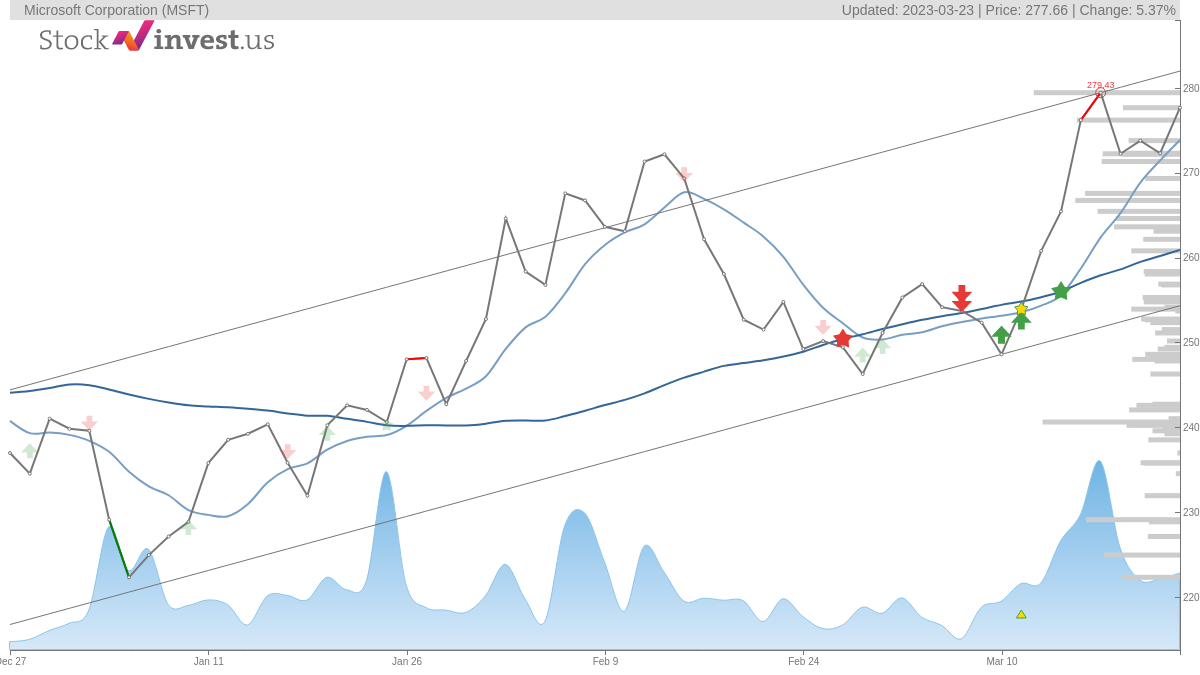 The stock is well-positioned for growth with a 12-month forward P/E ratio of 26.4X.
In the short-term chart, the stock had a Golden Star Signal on March 13, 2023, indicating a potential rise of 15.37% over the next 3 months.
Morgan Stanley analysts have noted that MSFT's strong brand and tech leadership represent a potential long-term threat to keep an eye on. With solid fundamentals and healthy institutional support, MSFT could be an opportunity for investors.
Conclusion:
In conclusion, ELF Beauty, NVIDIA, and Microsoft are three stocks that investors should keep an eye on in April 2023. ELF's innovative product offerings and increasing e-commerce presence, NVIDIA's strong growth prospects in the cloud and AI space, and Microsoft's solid growth profile and leadership position in the technology industry make them all potential opportunities for growth-oriented investors.
However, it's important to note that investing always carries risks, and it's crucial to conduct thorough research and consult with a financial advisor before making any investment decisions. As always, stay informed and stay disciplined when it comes to investing.