Investors are gearing up for Tuesday's release of U.S. inflation data as they seek to gain a clearer understanding of the Federal Reserve's rate hike trajectory. With earnings season coming to a close, staying informed on the latest developments in the financial world is essential. In this post, we'll provide you with the information you need to start your week off on the right foot. So, let's dive in!
Recap of Last Week:
Last week's stock market saw the S&P 500 and Nasdaq Composite each experience their worst week since December. Despite this, U.S. stocks still mainly closed up on Friday as investors weighed improved consumer sentiment and warnings from Fed officials about high inflation.
The Dow Jones Industrial Average rose by 0.5% to close at 33,869.27, while the S&P 500 gained 0.2% to finish at 4,090.46. The Nasdaq Composite, however, fell 0.6% to end at 11,718.12. For the week, the Dow dipped 0.2%, the S&P 500 shed 1.1%, and the Nasdaq fell 2.4%.
Investors divided their attention between corporate earnings reports, economic data, and comments from Federal Reserve officials. The University of Michigan's preliminary report showed a rise in its index of U.S. consumer sentiment to a 13-month high, indicating a cautiously optimistic outlook for the economy. However, one-year inflation expectations also edged up to 4.2%, which some consider troubling for the Fed.
Earnings reports from companies such as Expedia Group (NASDAQ: EXPE), with shrinking profit margins, have disappointed investors, leading to doubts about the consumer-discretionary sector, which has been the best-performing sector in the S&P 500 this year.
Wage growth and stubborn services sector inflation remain a concern for policymakers, and high uncertainty remains with stock market valuations. The yield curve in the U.S. Treasury market has also been deeply inverted, with short-term rates trading above longer-term yields, indicating a potential recession.
Despite these challenges, stocks have avoided deeper losses because Fed Chair Jerome Powell has not strayed from his view that a disinflationary process has begun. The stock market awaits next week's consumer-price-index report for January, and many investors are wary of opening new long positions.
Upcoming Market-Moving Events.
And now, let's dive into the latest news and updates about the commodities markets.
We saw a rebound in oil contracts on Friday in recent developments, with Brent and W T I jumping more than two percent. This was a result of the announcement by Russian deputy prime minister Alexander Novak that production would be cut by 500,000 barrels per day, or five percent of the output, in March.
The crude prices reacted positively to the news, and it's clear that Russian oil production has been relatively resilient so far. The move was made with the aim of improving oil revenues by narrowing the discount of Russian oil to Brent.
As for gold markets, we saw an initial rally earlier in the week, but then it gave back its gains. At the moment, the market formed an inverted hammer, which is a negative sign unless we break above the top of it. If that were to happen, then we could see a rally toward the top of the previous candlestick. But right now, it seems more likely that we'll see more downward pressure. If we break down below the bottom of the candlestick, it's possible that we could be headed toward the crucial $1800 level.
As we move forward into the coming week, it's time to turn our attention to the most significant events on the horizon.
The coming week will be an important one for investors as it's packed with a range of economic events and reports. However, the most significant of all is the inflation data that will be released on Tuesday. The January Consumer Price Index (CPI) report will be highly scrutinized, especially after Federal Reserve Chair Jerome Powell acknowledged the presence of "disinflation" in the U.S. economy.
Economists expect the headline CPI to have risen 0.5% month-over-month in January, which is a notable increase compared to figures seen in recent months. The Bureau of Labor Statistics also released new seasonal adjustments last Friday, which switched December's initial reading of a 0.1% monthly drop in headline inflation to an increase of 0.1% in the year's final month.
On Wednesday, the government will release its retail sales report, which is expected to show a 1.9% increase over the prior month, following a 1.1% decline in December. This report is a good indicator of consumer spending, which is a crucial driver of the economy. On Thursday, the Producer Price Index (PPI) will be released, giving investors a sense of how quickly prices are rising at the wholesale level. The PPI is expected to have risen 0.4% over the prior month, with an annual reading of 5.4%, down from 6.2% in December.
On the earnings side, investors are entering the final stretch of the reporting season with 69% of companies in the S&P 500 index having already reported their results. While 69% of that share reported earnings per share above estimates, which is below the five-year average of 77%, according to FactSet data. In the week ahead, investors will get results from well-known companies such as Airbnb, Coca-Cola, DraftKings, Paramount Global, and Deere.
In conclusion, the economic calendar is full in the week ahead, and inflation data will be the most important event for investors.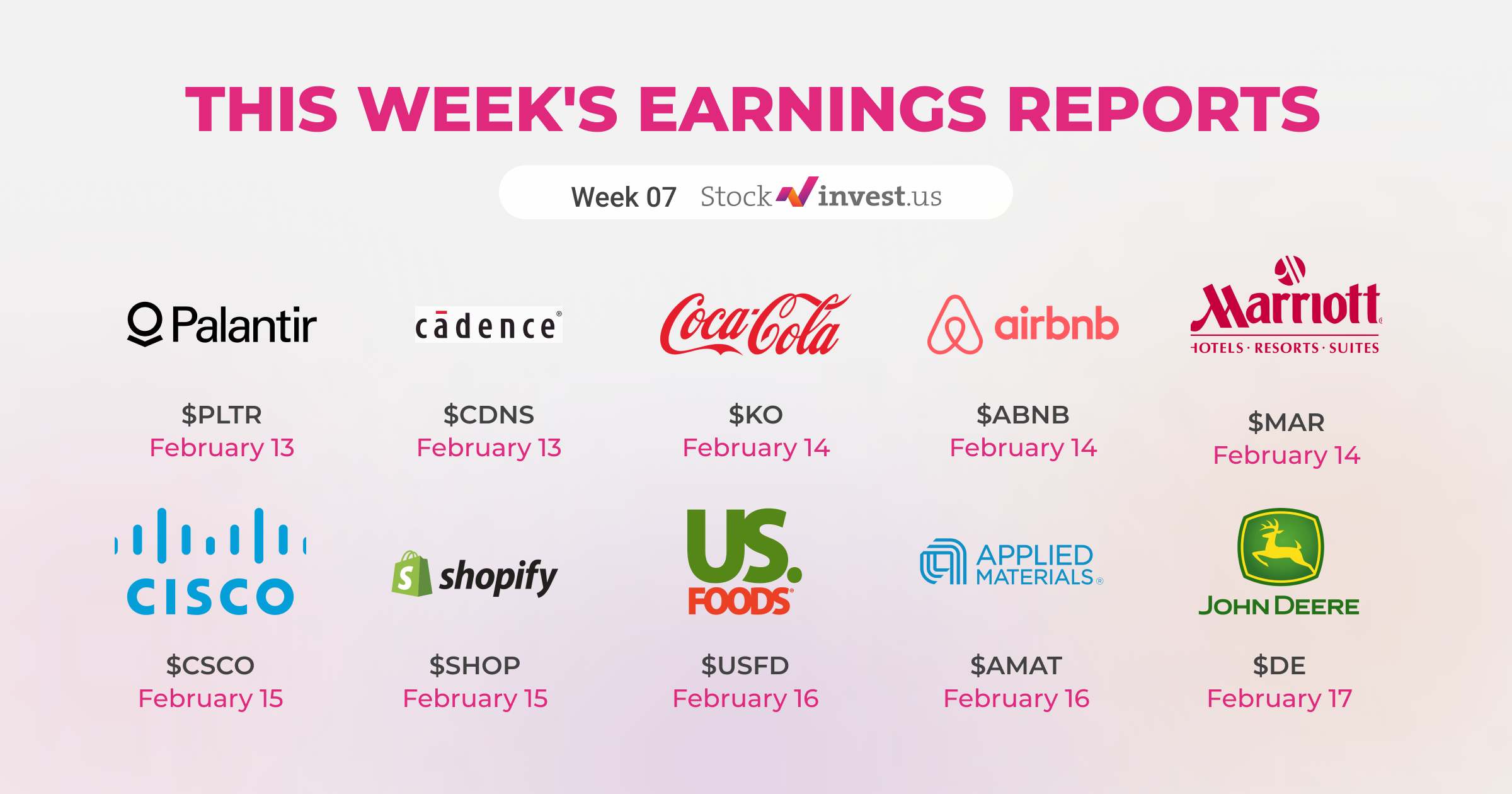 It will be a busy and potentially volatile week ahead with a range of economic reports, earnings results, and other events.
3 Hot Stocks to Watch This Week:
Now that we've discussed the current market trends let's take a closer look at some of the hottest stocks making waves on StockInvest.us.
With all the excitement surrounding artificial intelligence, it's no wonder that people are searching for the hottest AI stocks on StockInvest.us. And with Microsoft announcing its plans to integrate OpenAI's AI chatbot into its Bing search engine, the buzz only continues to grow. On Friday, 10th Feb 2023, Microsoft's stock price dipped -0.197% from $263.62 to $263.10, marking its fourth consecutive day of decline. However, Bill Gates, the co-founder of Microsoft, remains optimistic and convinced that AI, like ChatGPT, will revolutionize our world.
In response to Microsoft's move, Alphabet, the parent company of Google, announced its own AI chatbot, Bard, which it plans to roll out in the coming months. On the same day, Google's stock price dropped -0.629% from $95.46 to $94.86. Meanwhile, C3.ai, an AI software company, saw a positive trend, with its stock price gaining 2.22% from $22.49 to $22.99. The company is working to capture a share of the $596 billion market opportunity for AI-powered software applications for enterprises and governments.
Investors are always looking for the next big thing, and AI seems to be Wall Street's current favorite. As major tech companies embrace AI, investors are buying up AI stocks, including C3.ai, whose shares have risen by roughly 130% in the past month. However, it's essential to understand the difference between price movement driven by emotions and price movement driven by solid fundamentals.
The next competition among the giants of technology has begun. With Microsoft integrating OpenAI's AI chatbot into Bing and Alphabet's announcement of its chatbot called Bard, the race to advance language learning models is heating up. These AI tools have been trained on vast amounts of data to provide human-like written results, shaping the future of search engine technology. Microsoft and Alphabet are not alone in this race, with Chinese companies Baidu and Alibaba joining in, but the focus will remain on these American competitors.
Microsoft's move with OpenAI is a strategic investment and a push as a first mover. Still, with less than a 10% market share on desktops and virtually zero on mobile devices, Bing has only an estimated 3% share of the search engine market. Alphabet's position is more established, with Google Search having over 4 billion regular users worldwide and DeepMind's AI expertise integrated into Alphabet products. Google Search generates over $42 billion in revenue and makes up most of Alphabet's $75 billion annual operating profits.
The race is on to see who will take a slice of the lucrative search engine market, with Microsoft looking to gain back some share and Alphabet working to maintain its dominance. While Microsoft has made a strong start with its investment in OpenAI, Alphabet's deep roots in the market and AI expertise give it a strong position. It's uncertain who will come out on top, but this battle for search engine supremacy is sure to be fascinating to watch in the coming years.
Conclusion
We hope you found this blog post helpful in your quest for informed investment decisions. Remember to keep an eye on a stock's fundamentals, financial health, industry trends, and any relevant information or events that may impact the stock price.
If you have any questions or comments, feel free to reach out to us via our social media channels. We'll be back next week with more analysis and insights, so stay tuned!
Disclaimer: As always, please keep in mind that trading involves a high risk of losing money and that you should speak with a financial advisor before making any investment decisions. The information provided on StockInvest dot U S should not be the sole basis for your investment decisions, and any use of the information provided is at your own risk.