💡
Analyst ratings are recommendations made by various stock analysts.
Analyst ratings can be confusing for investors. What do they mean? Are they important? And most importantly - should you trust them?
This blog post will break down analyst ratings and explain what to expect from analyzing them. We will also talk about the different types of ratings and what each one means. By the end of this post, you will better understand how it works and why it might be essential to consider when making investment decisions.
What are analyst ratings, and what do they mean?
Public companies are rated by analysts who monitor their industries. These stock ratings result from a thorough evaluation of a traded company using known metrics such as sales, earnings, and potential catalysts.
Analyst ratings usually come out after a company has reported its earnings.
It can provide insights into a company's future performance and influence the stock market because it is usually followed closely by the media.
What are the different types of analyst ratings?
There are several different types of analyst ratings, each with its own meaning.
A "BUY" or "STRONG BUY" rating indicates that a company is expected to perform well in the future and is likely a good investment choice;
"HOLD" ratings indicate that current performance is satisfactory but that there may be risks associated with investing in the company;
"SELL" or "STRONG SELL" rating means that the stock is not a good investment and that it may be time to sell it;
"UNDERPERFORM" or "MODERATE SELL" rating means that the company is expected to do worse than the market;
"OUTPERFORM" or "ACCUMULATE" rating means that the company is expected to do better than the market.
The annual report for the investment portfolio of Warren Buffett is a must-read if you are looking to invest like him. The sage advice found within may help find companies with durable competitive advantages. Peter Lynch's insights on low P/E ratios can teach us about future earnings growth candidates in this year's data set!
However, analyst ratings are not always accurate. For example, in 2015, Apple was rated as a "SELL" by Goldman Sachs just one day before it announced its record-breaking iPhone 6s sales.
That's why it is vital to do your research before making any investment decisions.
What Do Analysts Do?
The daily routine of all analysts varies. Some may focus on a particular sector, such as healthcare, while others might have broader coverage. The most critical task for analysts is to produce independent and unbiased investment recommendations.
Before earnings, analysts tend to be focused on estimating the upcoming quarter's results. This process requires analysts to interact with companies' management teams and develop relationships with industry contacts.
After a company reports its earnings, analysts will revise their estimates. They might even change their rating on the stock if they believe it is warranted. Also, one part of their job is communicating with media outlets to ensure that their ratings are accurately represented.
Analyst ratings can move markets, and the public must understand what the rating means.
Buy-side or Sell-side Analysts.
The two main categories of analysts are "BUY-SIDE" and "SELL-SIDE."
A "BUY-SIDE" analyst works for a mutual fund, insurance company, or another type of asset manager. Their job is to find investments that will generate profits for their employer.
A "SELL-SIDE" analyst works for an investment bank and provides research to the firm's sales force and clients. The reports produced by such analysts are generally more positive than those from the buy-side because the banks are trying to generate fees from underwriting and trading activities.
What analyst reports should you read?
Some companies provide research for sale and are in the sell-side category. Others offer objective analysis for a fee. Analyst ratings from these firms are usually more reliable because they are not trying to generate trading commissions.
The best way to use analyst ratings is to supplement your investment research. Please do not rely on them blindly; instead, use them as one tool in your decision-making process. Also, be sure to pay attention to the date of the rating. Analyst ratings can change quickly, and a rating that was accurate six months ago might not be relevant today.
When you are ready to begin reading analyst reports, start with the major ones like Goldman Sachs, JPMorgan, and Morgan Stanley.
It is also crucial to consider the rating system used by the analyst. For example, some analysts use a five-point rating system, while others use a more traditional three-point system.
Check also what kind of analysis the analyst uses. There are two main types: fundamental and technical. Fundamental analysis focuses on a company's financial strength. In contrast, technical analysis looks at charts to identify patterns that might indicate future price movements.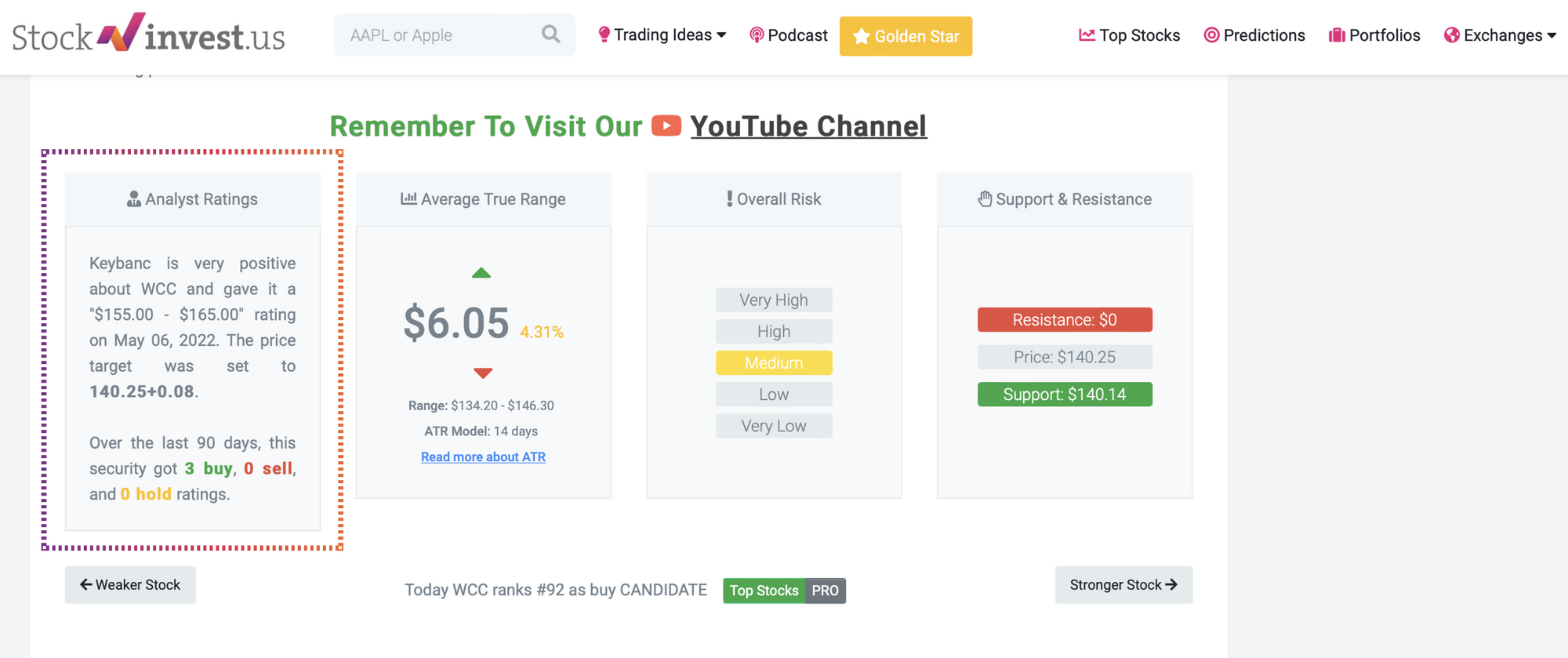 Should you sell your stocks if analysts say so?
The answer to this question is usually no. Analyst ratings are just one factor to consider when making investment decisions. If you own a stock that receives a rating of "SELL," it does not necessarily mean that you should immediately sell your shares.
Keep in mind that it is still an opinion, and different analysts may have different visions of the same stock.
Analyst rating changes can be caused by a variety of factors, including:
The company's earnings results;
Changes in the overall market conditions;
New information about the company (which should be reliable);
Be sure to supplement analyst ratings with your own fundamental and technical analysis before making any decisions.
To choose the analysts better to follow, you need to take into account different factors like:
How long the analyst has been rating the stock;
The success rate of the analyst's previous ratings;
The number of times the analyst has changed their rating on the stock;
The average return of the stocks the analyst rates as a "BUY";
The average return of the stocks the analyst rates as a "HOLD";
The analyst rates the average return of the stocks as a "SELL."
The analysts are human too! So, don't just take one of their word for it—you should compare the calls with those from other firms. Find out how they're compensated and cover both great picks and flops to make an informed decision on who will do the best work regarding your investment goals.
In conclusion:
Do your own research before blindly trusting stock analyst's ratings;
Always be sure to consult other sources to get a well-rounded understanding of a company and its prospects;
At the end of the day, you are the one who has to make the decision whether or not to invest in a particular stock. Check our website for more handy data for more than 38 000 tickers.