Swing trading is a trading strategy that tries to take advantage of short-term price movements. Usually, it is based on technical analysis.
It is one of the most popular strategies among traders because it allows them to make profits in both rising and falling markets.
In this blog post, we will discuss what swing trading is, what investors like about it, and the advantages and disadvantages of using this strategy. We will also provide some tips on how you can start swing trading today!
Swing trading.
The term "swing trading" comes from the fact that this strategy involves holding a position for some time, typically one to two weeks, before selling it.
Investors who swing trade are usually looking for price movements that will occur over a period of days or weeks. They are not as concerned about the long-term direction of the market. However, a trader believes that during a specific time frame, there is a possibility to catch a few swing trades.
Swing trading can be used in any market, including stocks, forex, commodities, and cryptocurrencies.
Some traders are looking for very volatile stocks with lots of movement, and others may like more sedate stocks. The goal is the same - to find an opportunity.
How is swing trading different from day trading?
The main difference between swing trading and day trading is that the first one involves holding a position for more than one day.
While day traders close out their positions at the end of each day, swing traders may hold their positions for days or weeks.
Swing trading also differs from day trading in terms of position size. Such traders usually take larger positions than day traders because they expect the price to move over a more extended time.
Pros and Cons of Swing Trading:
Like all other strategies, this one is not risk-free and has disadvantages and advantages.
The main advantage is that it can be used in different types of markets. Also, swing trading can be profitable in both rising and falling markets.
We have compiled the main pros and cons of swing trading in the table below: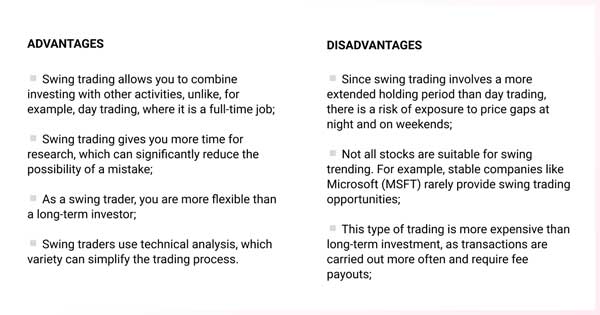 It is worth noting that the adherents of this strategy do not deny fundamental analysis either. Very often, if they find an interesting position, such traders check the company's financial data and the latest news at the macro and micro levels to confirm their assumptions.
Tip: Before you start using a new strategy, try it out on a virtual portfolio. For example, eToro offers a demo trading account, which will be a good trainer until you gain confidence in your actions.
Tools, signals and indicators useful for swing trading.
Swing traders can use many different technical indicators to help them decide when to enter and exit a trade. Some popular indicators include moving averages, Bollinger Bands, MACD, and RSI.
Swing traders may also use news and economic data to generate trading signals. They may track economic indicators such as employment reports and gross domestic product (GDP) data to understand how the market is likely to move.
In addition, swing traders may use various technical analysis tools, such as chart patterns and trend lines, to spot potential trading opportunities.
There is no one-size-fits-all approach to swing trading, and traders may use different indicators and tools to make decisions. The most important thing is to find a strategy that works for you and stick with it.
Swing Trading Strategy Example for Tesla Inc. (TSLA).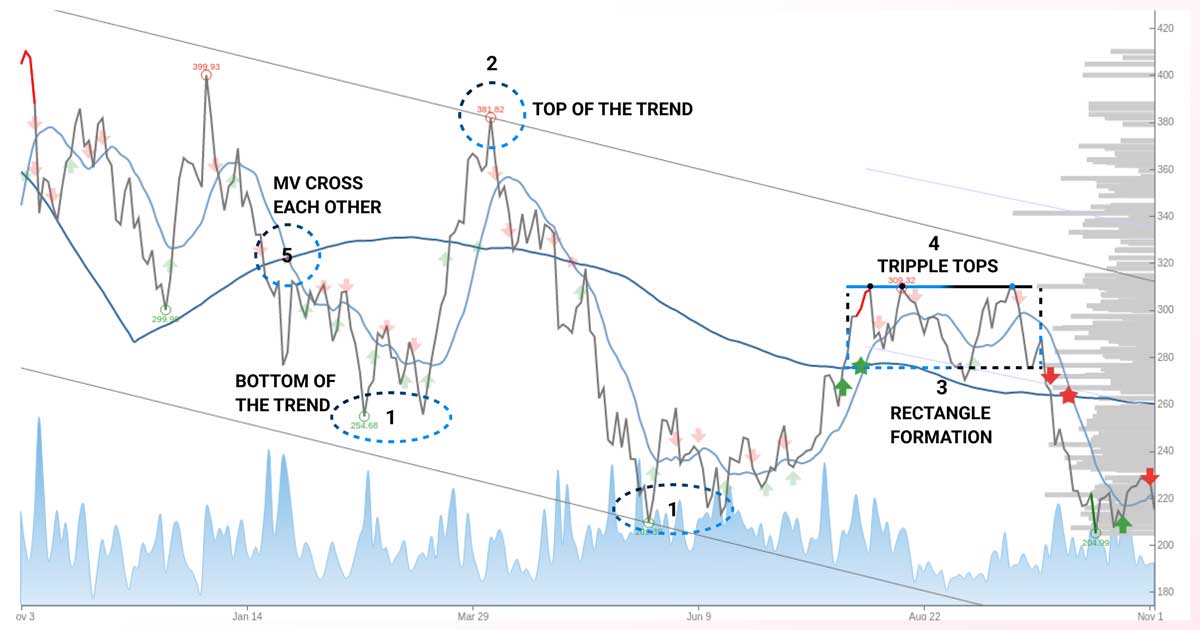 Let's look into possible swings using a 12-month Tesla Inc. (TSLA) chart as an example.
When the stock is at the bottom, we call this undervalued;
2. When a stock is at the top of a trend - overvalued;
3. At the very last part, you have a rectangle formation. The expected fall is the height of the rectangle.
4. At the end of the chart, you also have triple tops (on StockInvest.us, we have a separate list for such tops)
5. Swing trades can also be made on the major MV signals. For example, when the short and long MV cross each other. You can see that it happened at the same time as the rectangle formation was broken at the end, but it also occurred a few times earlier in the chart.
Before entering a position, you must analyze your risk tolerance, set a stop loss, and consider various exit options.
Conclusion and tips:
Summarizing all of the above, we can identify several important steps necessary to start swing trading:
Research markets using technical analysis. StockInvest.us provides daily technical stock analysis commentaries and financial data for more than 25 000 publicly traded companies based on our calculated technical signals. So check the company of your interest on our website.
Choose an asset. Once you have completed your research, you need to decide which ticker/asset and time frame you want to swing trade. Determining your entry and exit strategy based on your swing trading signal is also essential. For instance, to buy Tesla (TSLA) when the price hits the support level.
Do not forget about risk management. Set a stop-loss. Also, if you are experienced enough, consider taking a profit order to mitigate any risks.
Monitor your position. Keep an eye on your trade while it is open. Set necessary alarms.
Exit it. If your stop loss has not exited the trade, analyze the situation and close the trade as per your swing trading strategy.
It is important to remember that swing trading is not without risks. Before swing trading, be sure to do your research and develop a well-thought-out strategy. Speak with your financial advisor. And always use stop losses and risk management strategies to protect your capital.