Market capitalization, or Market Cap, is the total value of a company's outstanding shares. It can be found by multiplying the number of shares by the current stock price. This metric is often used to measure a company's size and valuation.
In this blog post, we will discuss its definition and types and how to use market cap in investment strategy. We will also look at some of the biggest companies by Market Cap in 2022.
What does market capitalization indicate?
There are two key things that market capitalization indicates:
The first is the size of the company. A company with a higher market cap is usually (but not always) bigger than a company with a lower market cap. An excellent example of this is Tesla Inc., which is far smaller in terms of production than e.g. Ford Motor Company but still has a higher Market Cap;
The second thing that market capitalization indicates is the valuation of the company. A company's valuation is based on many factors, but its earnings power is one of the most important. That is, how much profit it can generate given its current assets and business model. A company with a higher market cap is usually (but again not always) more valuable than a company with a lower Market Cap.
There are different types of Market Cap:
Large-Cap: Companies with a market capitalization of $10 billion or more. They tend to be well-established businesses with a long history of profitability.
Mid-Cap: Companies with a market capitalization from $2 billion to $10 billion. These companies usually have a solid track record but maybe experience faster growth than large caps.
Small-Cap: Companies with less than $2 billion market capitalization. These companies are typically newer and riskier but can offer investors higher returns potential.
What is the use of market capitalization?
There are a few different ways investors can use market capitalization to their advantage.
One way is to use it as a measure of risk. In general, large-cap stocks are considered less risky than small-cap stocks. This is because large caps tend to be more established companies with a longer track record of profitability. They also usually have more diverse product lines and customer bases. This gives them a bit more cushion in tough economic times.
Another way that market capitalization can be used is as a tool for diversification. By investing in companies of different sizes, investors can help mitigate the risk in their portfolios. For example, if small-cap stocks are underperforming, large-cap stocks may make up for some losses.
Finally, market capitalization can be used to identify potential investment opportunities. For example, if a small-cap stock is starting to get more attention from analysts and investors, it may be worth looking at.
Even though market capitalization is a valuable metric, it's important to remember that it's not the only thing to consider when making investment decisions. Factors such as financial stability, growth potential, and valuation all play a role in whether or not a stock is a good investment.
What is the market capitalization in cryptocurrency?
In the cryptocurrency world, market capitalization is used to measure the total value of all the coins in circulation. It's calculated by multiplying the current price of a coin by the number of coins in circulation.
For example, let's say that there is currently 16 million Coin A in circulation, and each such coin is worth $100. Its market capitalization would be $16 million.
Cryptocurrency market capitalization can be a helpful metric for identifying trends and opportunities. For example, if a particular coin has a low market cap but is starting to gain traction, it may be worth investing in.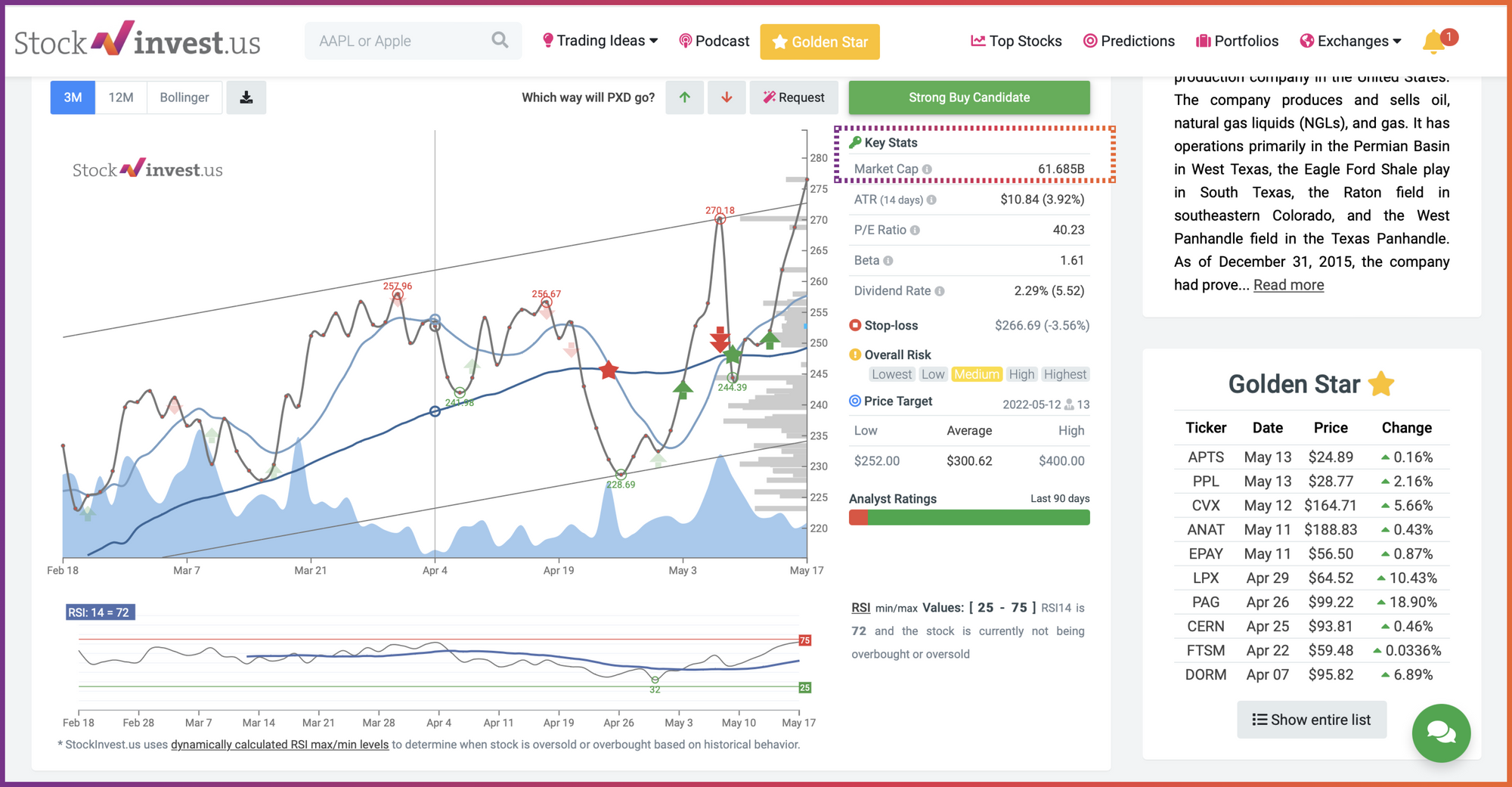 It's also important to remember that the market cap is not the only thing that should be considered when making investment decisions. Other factors such as the team behind the project, the technology, and the coin's use case are also important.
Top-5 large-cap stocks in 2022.
The following is a list of the largest companies by Market Capitalization this year (May 2022).
Saudi Arabian Oil Company (2222. SR)
This company is a Saudi Arabian public petroleum and natural gas operator.
Market cap: $9.092T
P/E: 20.84
Dividend Rate: 3.02%
Apple Inc. designs, manufactures and markets mobile communication and media devices, personal computers, and portable digital music players to consumers, small and mid-sized businesses, education, and enterprise and government customers worldwide. The company also sells related software, services, accessories, networking solutions, and third-party digital content and applications.
Market cap: $2.339T
P/E: 25.41
Dividend Rate: 0.49%
Microsoft Corporation, a technology company, develops, licenses, and supports software products, services, and devices worldwide.
Market cap: $1.968T
P/E: 29.32
Dividend Rate: 0.75%
Alphabet Inc., through its subsidiaries, provides online advertising services in the United States, the United Kingdom, and the rest of the world. The company offers performance and brand advertising services.
Market cap: 1.548T
P/E: 22.47
Dividend %: -
Amazon.com Inc. engages in the retail sale of consumer products in North America and internationally. The company sells merchandise and content purchased for resale from vendors and those offered by third-party sellers through retail websites.
Market cap: 1.097T
P/E: 42.33
Dividend Rate: -
But not only do large-cap companies have potential, as we mentioned above, but mid-cap and even small-cap companies can also bring you gains after careful research. These are some examples of such.
Mid-cap stocks in 2022.
United States Steel Corporation produces and sells flat-rolled and tubular steel products primarily in North America and Europe.
Market cap: 6.68B
P/E: 2.07
Dividend Rate: 0.82%
Digital Turbine, Inc., through its subsidiaries, provides media and mobile communication solutions for mobile operators, app advertisers, device original equipment manufacturers, and other third parties worldwide.
Market cap: 2.513B
P/E: 49.07
Dividend Rate: -
Together with its subsidiaries, Avis Budget Group Inc. provides car and truck rentals, car sharing, and ancillary services to businesses and consumers worldwide. The company operates through the Americas and International segments.
Market cap: 12.525B
P/E: 18.79
Dividend Rate: -
Silicon Laboratories Inc. (SLAB)
Silicon Laboratories Inc., a fabless semiconductor company, designs, develops, and markets mixed-signal analog intensive integrated circuits (ICs) in the United States, China, and internationally. The company offers Internet of things products, such as 8-bit mixed-signal, 32-bit wireless, ultra-low-power 32-bit microcontrollers, and wireless connectivity devices comprising a range of integrated and low-power transceivers, as well as sensor products, including optical and relative humidity/temperature sensors. It also provides broadcast products, including hybrid TV tuners, single and dual digital video demodulators, AM and FM receivers, automotive radio tuners, and high-fidelity radio ICs. In addition, the company offers infrastructure products comprising timing devices, such as clocks and oscillators, multi-channel isolators, isolated drivers, isolated power converters, and mixed-signal devices.
Market cap: 5.501B
P/E: 2.87
Dividend Rate: -
Cognex Corporation provides machine vision products that capture and analyze visual information to automate tasks, primarily in manufacturing processes. The company develops, manufactures, and markets machine vision products that are used to automate the manufacture and tracking of discrete items, such as mobile phones, aspirin bottles, and automobile tires, by locating, identifying, inspecting, and measuring them during the manufacturing or distribution process.
Market cap: 8.711B
P/E: 29.88
Dividend Rate: 0.39%
Small-cap stocks in 2022.

Hovnanian Enterprises Inc. (HOV)
Hovnanian Enterprises, Inc. designs, constructs, markets, and sells residential homes in the United States. It constructs single-family detached homes, attached townhomes and condominiums, urban infill, and active lifestyle homes.
Market cap: 281.097M
P/E: 0.52
Dividend Rate: -
Peabody Energy is a coal mining and energy company headquartered in St. Louis, Missouri. Its primary business consists of mining, selling, and distributing coal, which is purchased for electricity generation and steelmaking.
Market cap: 2.757B
P/E: 10.94
Dividend Rate: -
HighPeak Energy is an independent oil and natural gas company engaged in acquiring, developing, and producing oil, natural gas, and NGL reserves.
Market cap: 2.935B
P/E: 233.64
Dividend Rate: 0.50%
Civitas Solutions, Inc., through its subsidiaries, provides home- and community-based health and human services to individuals with intellectual, developmental, physical, or behavioral disabilities and other special needs in the United States. It operates in two segments, Human Services, and Post-Acute Specialty Rehabilitation Services.
Market cap: 5.30B
P/E: 16.60
Dividend Rate: 2.80%
Conclusion.

In short, market capitalization is a way to measure the size of a company by looking at the total value of its outstanding shares. It can be used as a tool for investors when making decisions about which stocks or cryptocurrencies to invest in. Understanding how the Market Cap works and what it means for individual companies can make more informed choices about where to put your money. We hope this article has been helpful and that you will continue to explore our website for more information on stock and cryptocurrency investing.