Welcome to our weekly stock market news and analysis blog post! As the new trading week begins, we are thrilled to bring you the latest financial updates and market trends.
What you need to know about last week shortly:
It's been a tough week for the Dow, suffering its worst since June, as U.S. stocks ended sharply lower on Friday after mixed signals from the February jobs report and ongoing concerns about contagion in the banking sector.
💡
The S&P 500 also experienced its most significant weekly percentage decline since September, while the Nasdaq saw its biggest percentage slide since November. The Dow Jones Industrial Average dropped 345.22 points to close at 31,909.64, its fourth straight day of declines.
The banking sector has been a cause for investor concern, and recent events have only heightened those worries. The closure of Silicon Valley Bank by the Federal Deposit Insurance Corp has added to the uncertainty. As a result, shares of major banking institutions such as Bank of America Corp., Citigroup Inc., and JPMorgan Chase & Co. have all been impacted.
The U.S. employment report for February showed the labor market continued to grow at a robust pace last month, with the U.S. economy adding 311,000 jobs, more than expected. The unemployment rate also ticked higher to 3.6%, helped by increased labor-force participation.
Although the employment report was positive for the equity market, it was overshadowed by concerns over the banking sector.
Fed Chair Jerome Powell said earlier this week that the "totality" of jobs and inflation data would determine whether the central bank would return to raising its policy interest rate by another 50 basis points at its meeting later in March. After climbing earlier in the week, the odds of a 50-basis-point rate hike by the Fed have moderated over the past 24 hours.
Companies in focus included SVB Financial Group, the parent of Silicon Valley Bank, which saw its shares halted for volatility after falling 60% on Thursday. Barnes & Noble Education Inc. climbed 7%, while Oracle Corp. shares dropped 3.2% after the software company's fiscal third-quarter revenue fell short of Wall Street expectations.
A few words about commodities:
And now, let's dive into the latest news and updates about the commodities markets.

In Monday's Asian trade, oil prices ticked up, reversing an earlier weak start, as a recovery in Chinese demand and a weaker dollar provided support to a market rattled by the prospect of possible further U.S. interest rate increases. Brent crude futures were up 25 cents to $83.03 per barrel, while West Texas Intermediate crude futures ticked by 23 cents to $76.91 per barrel.
Market sentiment was fragile as worries about further monetary tightening by the Fed have been exacerbated by high crude oil inventories in the U.S. The failure of Silicon Valley Bank and New York-based Signature Bank and concerns about possible contagion led to a selloff in U.S. assets at the end of last week, which has also put downward pressure on the dollar. However, a weaker dollar makes oil cheaper for holders of other currencies, supporting oil prices.
Gold prices hit a one-month high on Monday, recovering sharply from recent losses as markets bet that a burgeoning banking crisis in the U.S. will push the Federal Reserve into softening its hawkish rhetoric in the coming days. The dollar fell sharply against a basket of currencies, while an inversion in the yield curve lessened after the failure of Silicon Valley Bank. Fed fund futures prices show that most traders now expect a 25 basis point hike by the Fed this month, following initial expectations for a 50 bps hike.
The Fed had embarked on its most hawkish hiking spree in over 50 years to curb runaway inflation. This weighed heavily on metal markets as rising yields drove up the opportunity cost of holding non-yielding assets. Still, the prospect of a less hawkish Fed spurred broader gains in metal prices.
As we move forward into the coming week, it's time to turn our attention to the most significant events on the horizon.
Upcoming Market-Moving Events:
Let's take a look at the most important events happening this week.
Other than GitLab Inc.'s (GTLB) earnings report, there are no significant economic releases scheduled for Monday.
On Tuesday, the Consumer Price Index will be released for February, with a year-over-year expected rate of +6% vs. +6.4% in January and a month-over-month rate of +0.4% expected vs. +0.5% in January. The Core CPI for February is expected to have a year-over-year rate of +5.5% vs. +5.6% in January and a month-over-month rate of +0.4% expected vs. +0.4% in January.
Wednesday will see the release of the MBA Mortgage Applications, Producer prices, and the Core PPI for February, with year-over-year rates of +5.4% and +5.2%, respectively, as well as month-over-month rates of +0.3% and +0.4% respectively.
Retail sales for February are expected to decrease by 0.3% vs. +3% in January, and the NAHB Home Builder Sentiment for March is expected to remain the same as in February at 42.
On Thursday, Building permits for February are expected to be at a 1.238 million annualized rate vs. 1.339 million in January, and Housing starts for February are expected to be at a 1.31 million annualized rate vs. 1.309 million in January. Initial jobless claims are expected to be at 205,000 vs. 211,000 last week, and the Philly Fed manufacturing survey will also be released.
Friday will see the release of Industrial production for February, with a +0.4% expected rate vs. 0% in January, and the preliminary March reading of the University of Michigan consumer sentiment.
Regarding the earnings calendar, notable companies releasing their earnings this week include: Lennar, Adobe, Dollar General, and Williams-Sonoma, among others.
Hot stocks that everyone's searching for:
Let's pivot our focus from the upcoming events and zoom into the three sizzling stocks that have captured everyone's attention and are often searched for on StockInvest.us. For a comprehensive analysis of these stocks, you can easily look up their ticker name in the search bar on StockInvest.us.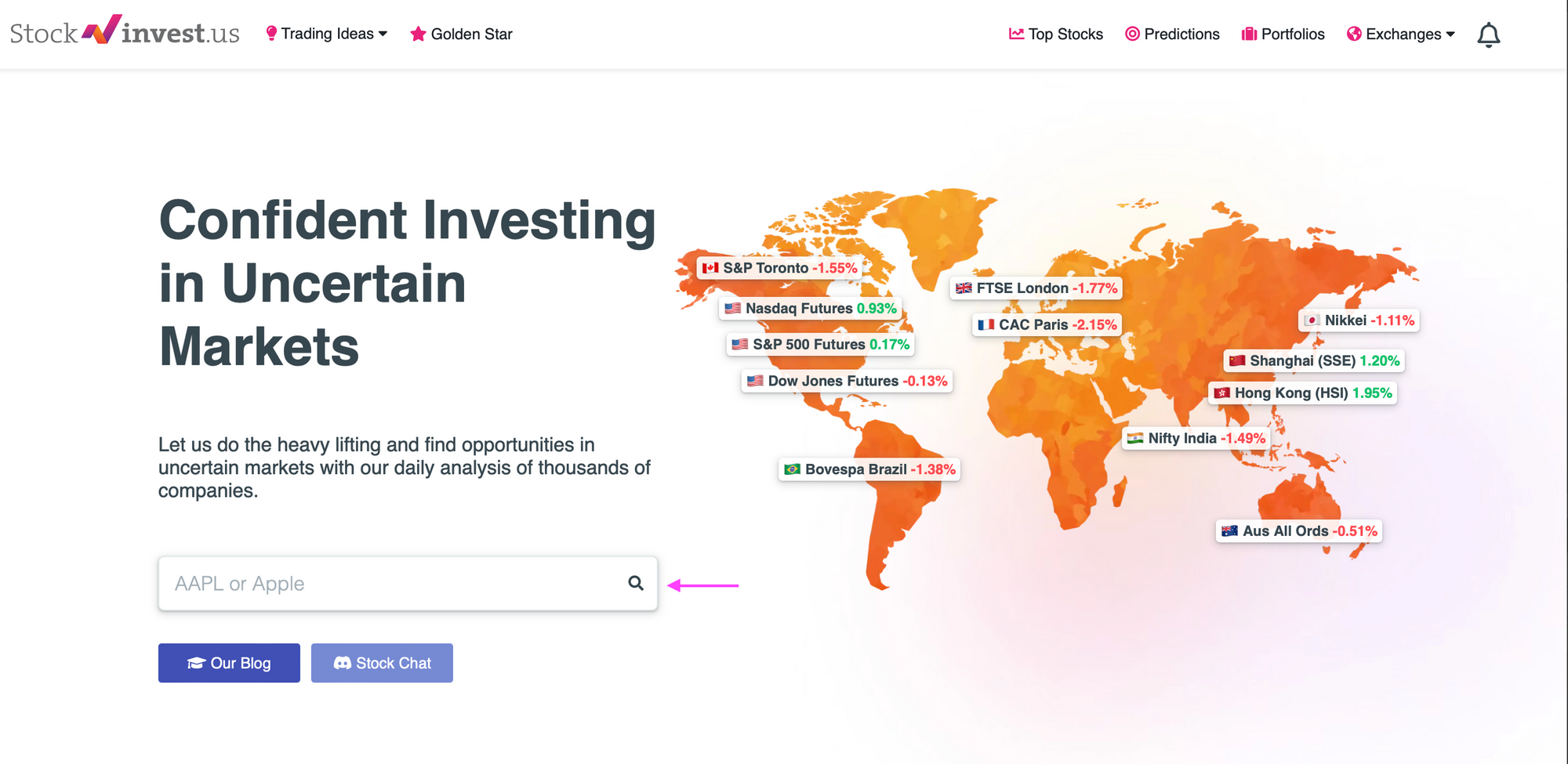 Tesla (TSLA) had a modest gain of 0.301% on Friday, 10th March 2023, rising from $172.92 to $173.44. As more electric vehicle (EV) competitors are offering price cuts, Tesla has announced several price reductions in recent months. Now, BYD, one of China's most prominent EV automakers, is following suit by offering discounts. What does this mean for Tesla investors?
On Friday, 10th March 2023, Apple (AAPL) saw a decline of 1.39%, from $150.59 to $148.50. Later this year, when Tim Cook reveals Apple's new "mixed-reality" headset, he won't merely be presenting the tech giant's latest flashy gadget. The Apple chief will also guarantee that his legacy includes launching a next-generation hardware product that some insiders believe could rival the iPhone. The tech behemoth is expected to unveil a headset featuring both virtual and augmented reality as soon as June, after seven years in development- twice as long as the iPhone.
On Friday, 10th March 2023, Amazon's (AMZN) stock price decreased by -1.65%, dropping from $92.25 to $90.73. While Microsoft and Google are the current talks of the town in the AI battle, investors must not forget that Amazon is a serious contender in the space. Amazon has various AI solutions, some of which are less apparent than others. Check out the brief video to hear what Jose Najarro and Toby Bordelon have to say. Additionally, consider subscribing and clicking on the special offer link below.
Impact of SVB on Markets:
On Sunday night, financial regulators announced that Silicon Valley Bank (SVB) depositors would have access to all of their money starting Monday, March 13, 2023.
This came after the bank's sudden failure last week, which raised fears of contagion across the banking system. The Federal Reserve, Treasury Department, and FDIC released a joint statement reassuring the public that no losses associated with the resolution of SVB would be borne by the taxpayer.
Furthermore, the Federal Reserve announced that it would offer funding to banks through a new facility called the Bank Term Funding Program (BTFP). This program will help ensure that banks can meet all depositor withdrawals, essentially backstopping all deposits—insured and uninsured—across the U.S. financial system. Loans of up to one year will be available to banks, savings associations, and credit unions pledging U.S. Treasuries, agency debt and mortgage-backed securities, and other qualifying assets as collateral.
The BTFP is an additional source of liquidity against high-quality securities, eliminating an institution's need to quickly sell those securities in times of stress. This provides much-needed stability to the banking system and prevents panic among depositors.
The Federal Reserve is closely monitoring developments in financial markets and is prepared to address any liquidity pressures that may arise. The central bank said in a release that "this action will bolster the capacity of the banking system to safeguard deposits and ensure the ongoing provision of money and credit to the economy.
It is worth noting that the lending facility is designed by the Fed to cover all insured deposits in the U.S. banking system and will be backed by a $25 billion exchange stabilization fund at Treasury, which officials do not expect to tap. Banks can be confident that their customers' deposits are safe and secure.
During a call with the media on Sunday evening, Fed officials stressed that these actions were designed to provide more liquidity and reduce contagion, which should help prevent contagion to small, medium, and large banks. The Fed is not purchasing securities at banks; rather, it is only lending against their book value. Fed officials also stressed that no bank is being bailed out, but banks are receiving longer-term liquidity at a higher valuation and lower risk.
Despite these measures, there are still concerns about other institutions that have similarities to Silicon Valley Bank. Treasury officials noted that concerns about depositors at those institutions remain. The government will continue to monitor the situation and take action as needed to ensure stability in the banking system.
In conclusion, the failure of Silicon Valley Bank highlights the need for a strong and stable banking system. The actions taken by financial regulators show that they are committed to safeguarding depositors and preventing panic in the financial markets. The Bank Term Funding Program and other measures will provide much-needed stability to the banking system and prevent contagion from spreading to other institutions. While there may be concerns about other institutions with similar risks, the government's swift response to the failure of SVB gives confidence that the banking system can weather any challenges that may arise.
Thanks for reading! We hope you found this blog post helpful in your quest for informed investment decisions. Remember to monitor a stock's fundamentals, financial health, industry trends, and any relevant information or events that may impact the stock price.
If you have any questions or comments, feel free to contact us via social media channels.
As always, please remember that trading involves a high risk of losing money and that you should speak with a financial advisor before making investment decisions. The information provided on StockInvest.us should not be the sole basis for your investment decisions, and any use of the information provided is at your own risk.