A price target is a stock market term used by investors and analysts to indicate the level at which they believe a stock will trade. The price target is based on several factors, including a company's earnings, revenue, and valuation. Determining a price target can be tricky, as it is an estimate and not always accurate. However, it can guide investors looking to buy or sell a stock.
In this blog post, we will explore a price target and give an example of how it can be calculated. (Since there are many different methods). We will also discuss its accuracy and where you can find price targets for stocks. Let's get started.
What does price target mean in the stock market?
💡
A price target is a level that a stock is expected to trade at in the future. They are often set by analysts who follow a particular stock. Usually, an analyst determines what the stock is worth and where the price will be in 12 or 18 months.
Investors use price targets to gauge whether a stock is undervalued or overvalued. If a stock is trading below its price target, it may be seen as undervalued and worth buying. On the other hand, if a stock is trading above its price target, it may be seen as overvalued and ripe for selling.
It's essential to keep in mind that price targets are estimates and not guaranteed levels where the stock will trade. Many things can change between the time when the target is set and when it is reached.
What you have to consider to determine a price target.
There are many factors that go into determining a price target. These include:
A company's earnings;
Revenue;
Future supply and demand;
Public Interest;
Other fundamentals.
Various analysts use different valuation methods and consider different economic conditions when deciding on a price target. This is why you will often see a range of price targets for the same stock.
For example, those who use fundamental analysis may emphasize a company's earnings and revenue more. If the stock is volatile, such analysts also will take a look for additional guidance, for instance: the company's balance sheet, a way of its management, the competitive environment, and the current economic situation.
On the other hand, those who use technical analysis may focus more on stock price history, statistics, trends, and charts.
It's also important to note that analysts' price targets can be revised as new information becomes available. For example, if a company releases strong quarterly results, analysts may revise their price target upwards.
Please, remember that stock prices are volatile and can move up or down rapidly. As such, it's crucial to use price targets as guidelines rather than absolutes.
How are price targets calculated?
There is no one formula for calculating price targets. As we mentioned, different analysts use different methods. However, there are some general steps that most analysts take:
First, they analyze a company's financial statements and public filings;
Then, they compare the stock to similar companies;
After that, they make adjustments based on factors such as risk and growth potential;
Finally, they come up with a range of possible prices that the stock could trade at.
One of the most straightforward price target formulas to understand is using a Price-to-Earnings multiple. In this case, an analyst will multiply a stock's earnings per share (EPS) by a certain number. This number is known as the P/E multiple.
For example, let's say that a stock has an EPS of $0.25 and is trading at a P/E multiple of 10x. This means that the stock is trading at 10 times its earnings. We simply need to multiply the EPS by the P/E multiple to calculate the price target. In this case, $0.25 x 10 = $2.5. This method is often used for growth stocks that don't have much history to go off.
Not all analysts reveal the method they use to calculate a price target. In some cases, analysts may not want to share their methods because they don't want others to copy them. In other cases, the analyst may not want to reveal their way because it's proprietary and gives them an edge over the competition.
Are price targets consistent and accurate?
The answer is no. Price targets are not always accurate. They are simply estimates based on several factors. There are some reasons why a stock may not reach its price target. These include:
The company misses earnings estimates;
The company issues guidance that is below expectations;
The stock market crashes;
Economic conditions deteriorate;
The company encounters unforeseen problems.
It's also important to remember that analysts are not always accurate with their predictions. For example, during bull markets, stocks tend to outperform and hit their price targets more often than during bear markets.
Also, it is vital to choose credible analysts. Many stock promoters will give a stock a high price target in order to generate interest and push the stock price up. These are not credible sources, and their price targets should not be taken seriously.
The best way to find credible analysts is to look for those with good track records.
Conclusion.
Usually, analysts publish their price targets in research reports on specific stocks. You can always check them on our website as well as on financial media.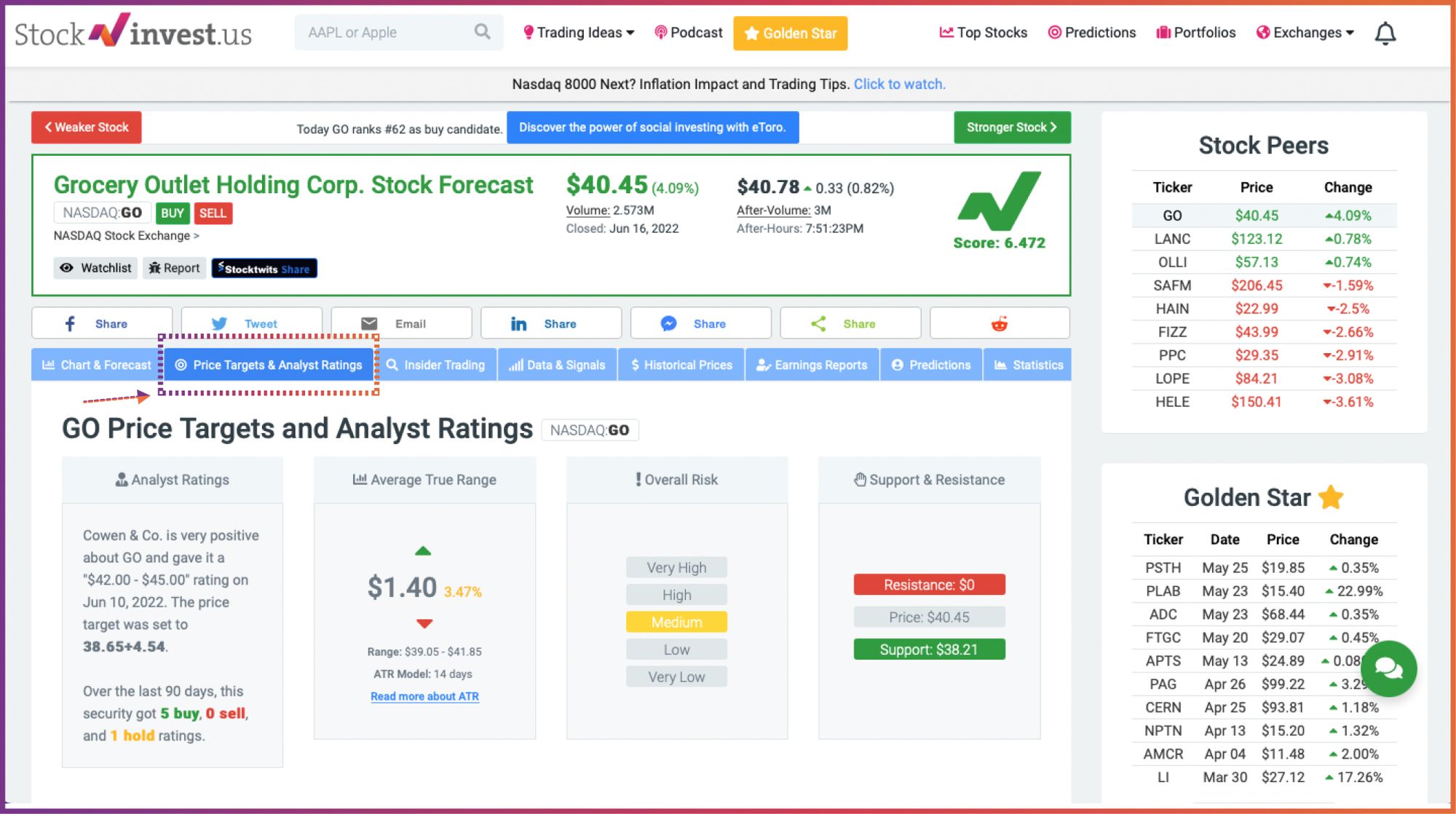 Just like other analysis tools, it has advantages and disadvantages. Remember that price targets alone are not enough to affect an investor's decision to buy, sell, or hold a particular stock. It is always better to do comprehensive research.
Stock prices are volatile and can move up or down rapidly. As such, it's crucial to use price targets as guidelines rather than absolutes.
Read more about analysts' ratings in our other article.