The eToro multi-asset investment platform is relatively new to the U.S. market. The company was founded in 2007 in Israel and is now one of the largest social investing platforms in the world, serving millions of investors across 140 countries.
Today we would like to review eToro for those considering using this investment platform or not yet familiar with it.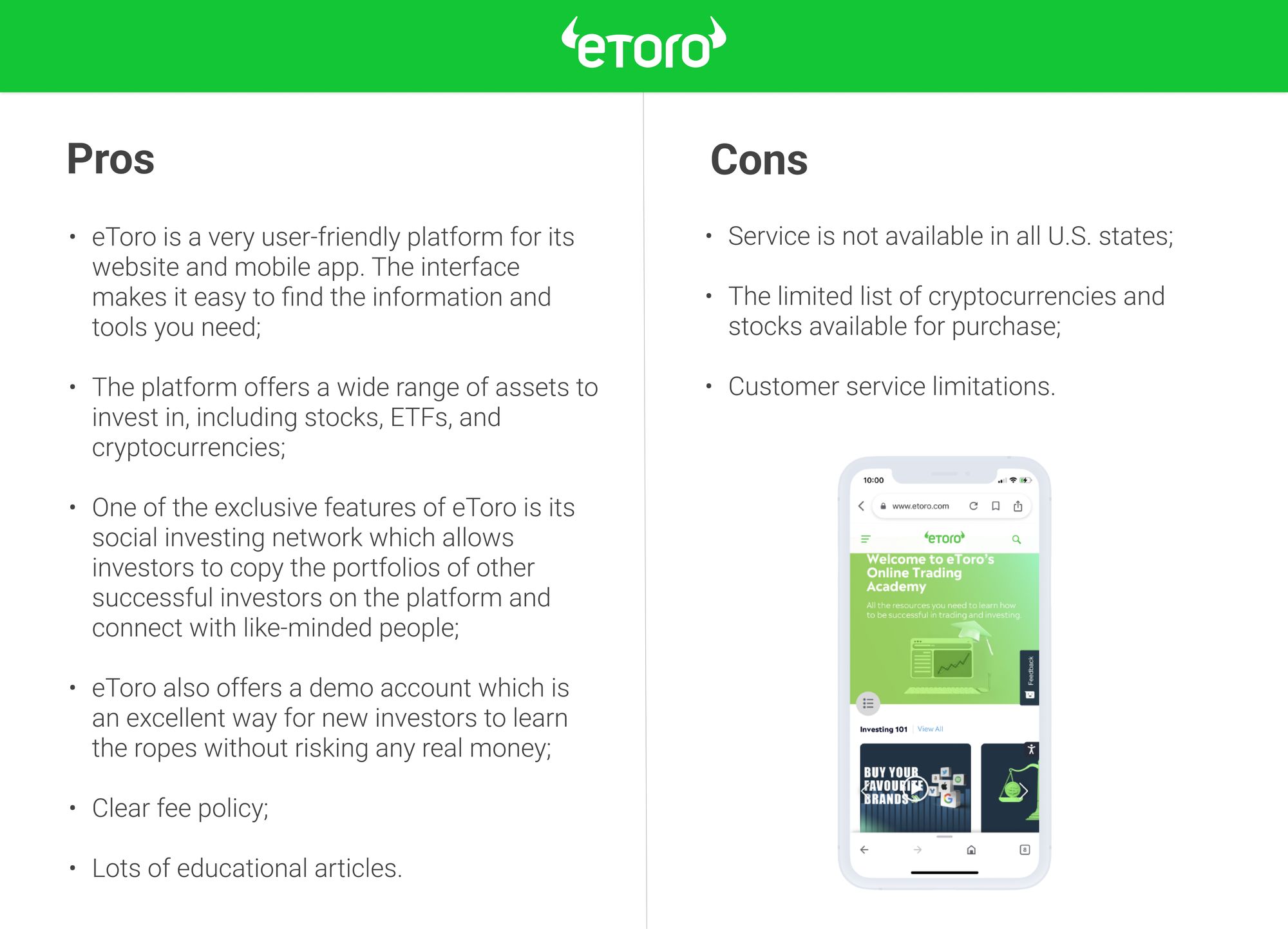 U.S. users can access 3 main assets at eToro: crypto, stocks, and ETFs. Let's take a closer look into them.
Stocks
In addition to international stocks, users can access tickers listed on the NYSE and the NASDAQ. However, this list is limited, with 2000+ stocks for now.
The platform provides filters, including search by industry or exchange, to make it easier to find candidates for investment.
A lot of stocks on the eToro app offer dividends to shareholders in the form of stock and/or cash. For U.S. users, gross cash dividends can be added to an account balance, while stocks will be added to the user's portfolio as a new position.
eToro currently allows U.S. clients to invest in stocks for just $10 per trade.
And if you are not yet ready to invest real money but would like to learn how to invest. You can definitely try a demo account that is credited with virtual $100,000.
ETFs
This investment option is suitable if you would like to diversify your portfolio.
The advantage is that there are no commissions if you trade ETFs and stocks.
Why do people choose eToro?
Social Investing. eToro is one of the leading social investing platforms. This concept allows not only to find new ideas and communicate but also to copy the trades of other more experienced investors. This feature is called the Copy Trader.
And in case you are an experienced investor and your portfolio brings you a stable income daily. You can register in the eToro incentive program based on the Copy Trader. It is called Popular Investor.
It should be pointed out that since eToro has recently entered the U.S. market, this feature has certain limitations. For instance, U.S. residents can copy only U.S. users. Also, the CopyTrader feature is available only for crypto. The company promises to eliminate these restrictions soon.
Smart Portfolios
The portfolios work by picking the best stocks based on the indicated filters: per region, industry, type of asset, and investment strategy. Tickers are periodically rebalanced to match the filters.
eToro Education and Research. In addition, eToro Academy also offers educational materials. Various articles, video tutorials, and guides are tailored for all skill levels.
A few features worth highlighting:
Pro Charts: The user can customize the chart in terms of timeframes for every candle stick, color and add technical indicators like the RSI;
Alerts: users can add assets to a watchlist to get valuable real-time data on the assets they follow. And with such price alerts, any user can choose to get a notification whenever an asset on a watchlist displays volatility;
News and Analysis section. This section helps stay updated with the latest news and market insights. Also, weekly market analysis is available here for all eToro users.
And what about customer service?
There are two ways to contact customer service:
To open a case from a registered email address;
Via live chat, which is available to all depositing clients 24 hours a day from Monday to Friday.
For more common questions, there are plenty of ready-made answers in the categorized lists in the Help Center.
Conclusion:
After reviewing the platform in detail, we can highlight several aspects that can be improved. For instance, eToro does not currently offer customer support by phone or support for people with hearing limitations.
The service is not yet available in all U.S. states. However, eToro is a good choice for you if:
You are looking for a platform with the ability to communicate and copy the moves of more experienced investors;
You would like to trade multiple assets in a place with a range of solid cryptocurrencies, stocks, and ETFs.
You are looking for a straightforward fee policy;
At first, you would like to practice on a virtual portfolio;
You are interested in gaining and applying knowledge based on the same platform.
Disclaimer: Securities trading offered by eToro USA Securities, Inc. ("the BD"), member of FINRA and SIPC. Cryptocurrency offered by eToro USA LLC ("the MSB") (NMLS: 1769299) and is not FDIC or SIPC insured. Investing involves risk, and content is provided for educational purposes only, does not imply a recommendation, and is not a guarantee of future performance. StockInvest.us is not an affiliate and may be compensated if you access certain products or services offered by the MSB and/or the BD.