Greetings, stock enthusiasts! Another trading week has begun, and we are excited to delve into the latest financial and stock market news.
Last Week:
Last week was a mixed week for U.S. stocks, with the S&P 500 and Dow Jones Industrial Average both booking modest weekly losses. The cause? Hotter-than-expected inflation reports and commentary from Federal Reserve officials spurred investors to bet on more interest-rate hikes by the central bank.
💡
The Dow Jones Industrial Average rose 129.84 points, or 0.4%, to close at 33,826.69. Meanwhile, the S&P 500 slipped 11.32 points, or 0.3%, to finish at 4,079.09. And the Nasdaq Composite shed 68.56 points, or 0.6%, to end at 11,787.27.
For the week, the Dow slipped 0.1%, logging its third-straight weekly decline in the longest such losing streak since September, according to Dow Jones Market Data. The S&P 500 fell 0.3%, booking back-to-back weekly declines for the first time this year, FactSet data show. However, the technology-heavy Nasdaq rose 0.6% for the week, outperforming the Dow and S&P 500.
So, what drove markets to behave in this way? Well, the S&P 500 index, which saw a five-month high in early February, slipped last week after stronger-than-anticipated inflation data—helped fuel expectations that the Federal Reserve could raise its policy rate well above 5% and keep it there until at least early 2024.
On Friday morning, Federal Reserve Governor - Michelle Bowman expressed concern that inflation isn't subsiding quickly enough, which means the FED must continue hiking interest rates. "I don't think we're seeing what we need to be seeing, especially with inflation," Bowman said.
While the central bank has been tightening its monetary policy to cool consumer demand for goods and services and bring down inflation, the stock market had been looking ahead to a potential pause in the FED's interest-rate hikes later this year.
Markets stumbled after the release of the producer-price index for January on Thursday, which showed wholesale prices accelerated by 0.7% last month, the sharpest increase since the summer. The January CPI report, released earlier in the week, showed that prices paid by consumers failed to moderate as much as expected.
The U.S. labor market has appeared strong in the face of rate hikes, with a low unemployment rate, but there also have been signs of a slowing economy. The Conference Board said Friday that its U.S. leading economic index fell 0.3% in January for a 3.6% decline over the past six months. That was in line with forecasts from economists polled by the Wall Street Journal.
According to FactSet data, the tech-heavy Nasdaq, which outperformed the Dow and S&P 500 last week, has jumped 12.6% this year. That compares with a year-to-date rise of 6.2% for the S&P 500.
The Dow and S&P 500 booked modest weekly losses after market-based chances of a rise in the Fed's benchmark rate in June have risen substantially. The probability of a June increase in the Fed's policy rate was seen as negligible as recently as earlier this month, according to trading in fed-funds futures.
Economists at Bank of America and Goldman Sachs have adjusted their forecasts to include 25 basis-point hikes in March, May, and June. That would bring the Fed's terminal rate to a range of between 5.25% and 5.5%.
Upcoming Market-Moving Events:
And now, let's dive into the latest news and updates about the commodities markets.
Oil prices rose on Monday due to several factors, such as optimism over China's demand recovery and concerns about underinvestment potentially leading to future supply shortages. The Brent crude rose 0.8% to $83.70 a barrel, while U.S. West Texas Intermediate (WTI) crude for March was up 0.7% at $76.89 a barrel. However, prices had dropped by $2 a barrel on Friday and closed lower by about 4% last week due to higher crude and gasoline inventories in the United States. The announcement that the U.S. will sell 26 million barrels of crude oil from its Strategic Petroleum Reserves also adds some downward pressure to the market. Nevertheless, global supply seems to be"  "flat to down" compared to the previous corresponding period after factoring in production cuts by Russia and OPEC+.
In contrast, gold prices were stuck in a tight range on Monday due to bets of more interest rate hikes from the U.S. Federal Reserve, which dimmed the outlook for non-yielding bullion. Spot gold was up 0.1% at $1,844.24 per ounce, while U.S. gold futures rose 0.2% to $1,853.10.

As we move forward into the coming week, it's time to turn our attention to the most significant events on the horizon.
This week, earnings reports from retail giants Walmart and Home Depot, along with updates on the Federal Reserve's preferred inflation measure, will be the highlights.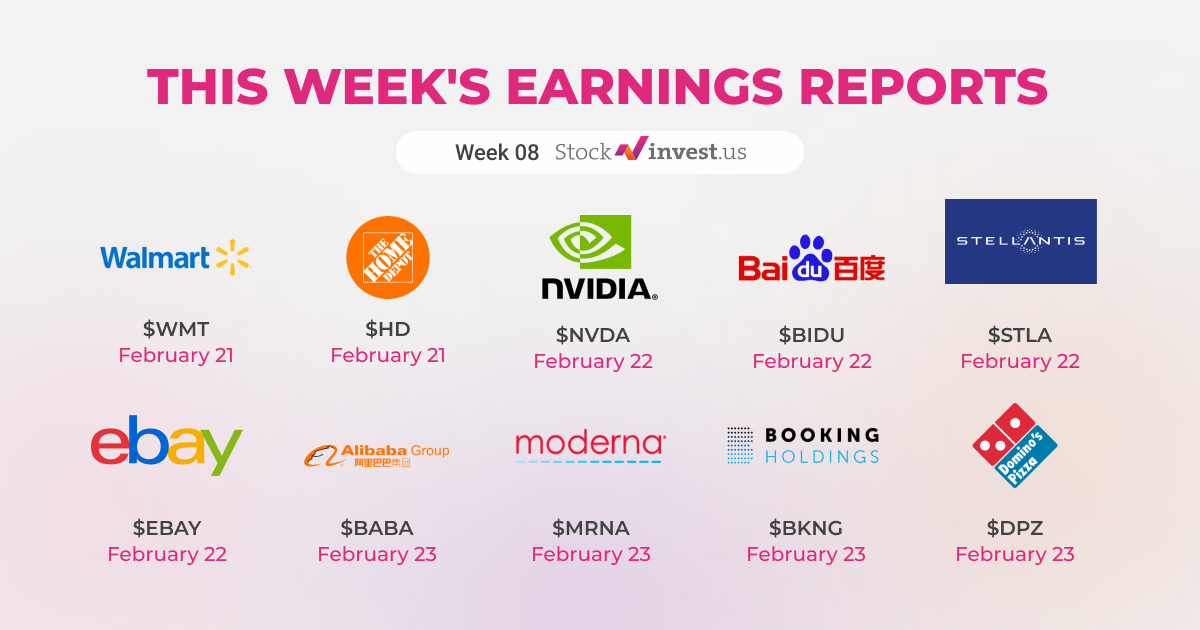 The Personal Consumption Expenditures (PCE) price index, which is the FED's most closely watched assessment of how quickly prices are rising, will be released on Friday. If realized, the numbers could support recent indications that inflation is not falling at the pace and extent investors have been hoping for. The recent bumpier-than-anticipated road to restoring price stability and strong economic data to start the year have prompted Wall Street banks to revise their expectations for upcoming rate hikes by the Federal Reserve.

Meanwhile, the U.S. stock and bond markets will be closed on Monday for President's Day. Earnings reports from Corporate America on Tuesday will kick off the busy week.

Worth watching:
Let's switch focus from upcoming events to the three most popular stocks currently on StockInvest.us. For an in-depth analysis of these stocks, simply enter their ticker names in the search bar on the website. Palantir Technologies made headlines last week, with its shares surging 22.5% despite an otherwise tough week for stocks. However, on Friday, the stock price dropped -5.25% from $9.71 to $9.20, marking the second consecutive day of decline. The company's GAAP net profits, which it had previously forecasted wouldn't happen until 2025, came as a surprise to investors questioning software stocks' profitability.
Meanwhile, Meta's stock price rose 0.255% on the last trading day, going from $172.44 to $172.88. Meta CEO Mark Zuckerberg announced a new paid subscription service called Meta Verified, which grants users a blue check for a monthly fee of $11.99 on the web and $14.99 on iOS. This subscription also offers extra impersonation protection against accounts claiming to be you, direct access to customer support, and verification of your account with a government ID. The service is launching in Australia and New Zealand this week, with plans for a wider rollout. Lastly, NVIDIA's stock price fell -2.79% from $220.02 to $213.88 on Friday, marking the third consecutive day of decline. However, analysts still expect an upbeat outlook for the company on Feb. 22 due to the increasing demand for artificial intelligence applications.
And to wrap things up, let's dive into our final topic.
The hot topic on everyone's mind is artificial intelligence. It's taken the market by storm this year, with OpenAI's ChatGPT launching and generating a buzz among investors. Microsoft CEO Satya Nadella even said that a new race has begun with generative AI tech.
AI stocks have become so buzzworthy that C3.ai nearly doubled in January, and shares of Buzzfeed more than doubled in a single day after announcing the use of AI tools for some of its content. The hype around AI may be reaching a fever pitch, but the technology does seem to be transformational, and there will likely be a number of winners.
For investors looking to get exposure to AI, the best move seems to be with established mega-cap companies. Here are two stocks that fit the bill today:
Meta Platforms (NASDAQ: META)
Facebook parent Meta Platforms (META 0.26%) has been developing its AI capabilities for years. It uses AI in its discovery engine, which surfaces and recommends accounts and content for users on Facebook and Instagram to follow. Those AI tools are especially important in making Reels work, its short-term video product that competes with TikTok and relies on recommendations rather than follows.
Meta also uses AI to improve advertising conversions, saying that conversions improved by over 20% from a year ago, and artificial intelligence helps its engineers be more productive.
Like Alphabet and other big tech stocks, Meta also has a number of AI experiments, including Galactica, the scientific research tool that it briefly released recently, and Cicero, an AI agent that can negotiate, persuade, and cooperate with people.
Finally, Meta stock is affordably priced at a price-to-earnings ratio of 19 based on this year's expected earnings, indicating that investors don't seem to be pricing in the potential impact of AI.
NVIDIA Corporation (NASDAQ: NVDA)
Running AI programs like ChatGPT takes tremendous computing power, and that will favor chipmakers like Nvidia (NVDA -2.79%), the company that invented the graphics processing unit, which is often used for artificial intelligence.
Nvidia announced in November that it was teaming up with Microsoft to build a massive cloud AI computer, a multiyear partnership that will take advantage of Microsoft's Azure cloud infrastructure and Nvidia's GPUs. The move should help ensure that Nvidia is a leader in making chips for AI applications.
According to analyst forecasts, demand for chips for ChatGPT and other generative AI tools is expected to add billions of dollars in revenue for Nvidia this year, and momentum could build as both Microsoft and Alphabet have announced their own chatbot tools. Nvidia's strength in GPUs gives it a competitive advantage in the industry as it has the greatest expertise and range of chips.
Nvidia shares have surged this year, up 54% in part on optimism around the AI breakthrough, but the stock is still down substantially from its peak in 2021, indicating more upside potential, especially as the market for its products is expanding.

Conclusion:
In conclusion, as the AI market continues to develop, these two stocks should be on investors' radars as they stand to benefit from the industry's growth.
Thanks for tuning into StockInvest.us! We hope you found this article helpful in your quest for informed investment decisions. Remember to keep an eye on a stock's fundamentals, financial health, industry trends, and any relevant information or events that may impact the stock price.
If you have any questions or comments, feel free to reach out to us via our social media channels. We'll be back next week with more analysis and insights, so stay tuned!
As always, please keep in mind that trading involves a high risk of losing money and that you should speak with a financial advisor before making any investment decisions. The information provided on StockInvest.us should not be the sole basis for your investment decisions, and any use of the information provided is at your own risk.