Looking for potential investment opportunities in the trucking industry? You might want to check out Werner Enterprises (WERN), a transportation and logistics company with diverse services. With a buy signal issued on March 23, 2023, from a pivot bottom point, the company's stock has already risen 2.39%, and further growth is indicated. However, negative signals have also been issued that may influence short-term development. In this article, we'll examine Werner Enterprises, its industry, and the technical signals indicating its potential as a runner.
What is WERN?
Werner Enterprises, Inc., a transportation and logistics company, engages in transporting truckload shipments of general commodities in interstate and intrastate commerce in the United States, Mexico, and internationally.
It operates through Truckload Transportation Services and Werner Logistics segments.
As of December 31, 2021, the company had a fleet of 8,340 trucks, which included 8,050 company-operated, as well as 290 owned and operated by independent contractors;
Werner Enterprises, Inc. was founded in 1956 and is headquartered in Omaha, Nebraska.
Signals' Analysis:
Werner Enterprises, Inc. (NASDAQ: WERN), a transportation and logistics company in the trucking industry, has shown a buy signal from a pivot bottom point on Thursday, March 23, 2023, and has risen 2.39% so far. This suggests further rise until a new top pivot has been found, with increasing volume and price considered a good technical signal.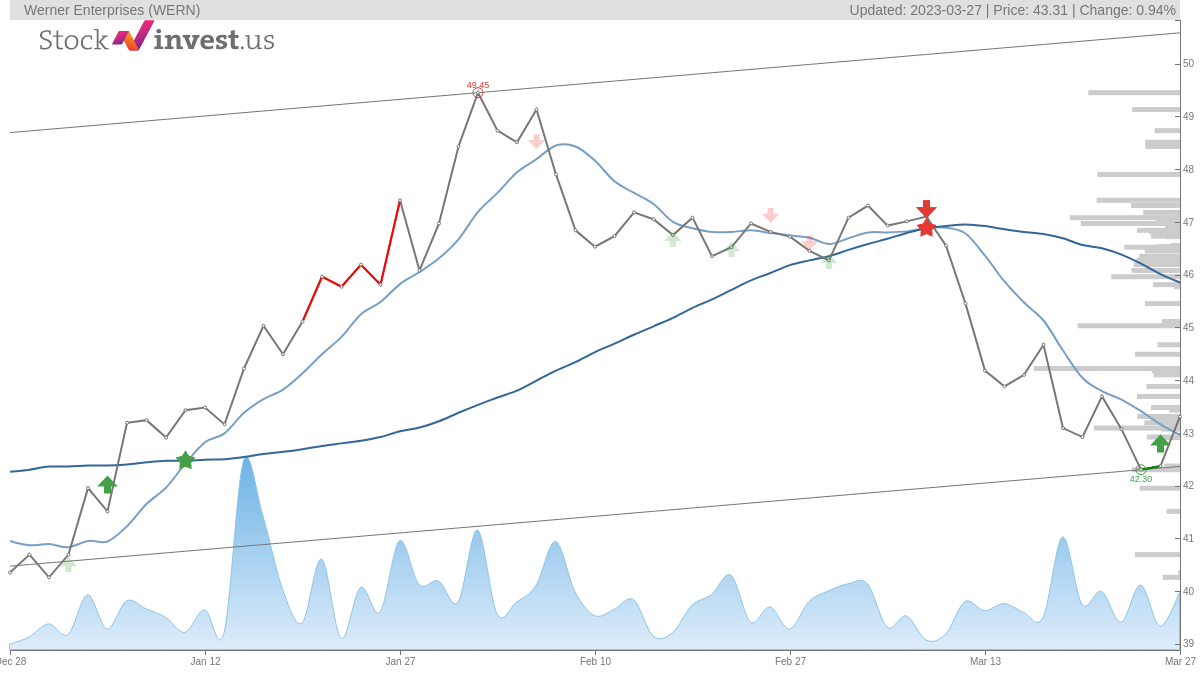 However, some negative signals have also been issued, which may influence the near short-term development of the stock. The long-term average currently gives a general sell signal, even though the short-term moving average shows a buy signal. Since the long-term average is above the short-term average, there is a general sell signal in the stock, giving a more negative forecast for the stock.
If the stock continues to rise, it will likely meet resistance from the long-term moving average at $45.85. Conversely, if it falls, it will find some support from the short-term average at $42.96. A break-up through the long-term average will give another buy signal, while a fall below the short-term average will add another sell signal and strengthen the general signal. Furthermore, there is currently a sell signal from the 3-month Moving Average Convergence Divergence (MACD).
As of March 28, 2023, the stock's volume is 599,810, and its price is $43.31, with an average daily movement of 1.26%.

Our recommended stop-loss: $40.90 (-5.56%) (This stock has medium daily movements and this gives medium risk. There is a buy signal from a pivot bottom found 2 days ago.).
Thanks for reading! We hope you found this blog post helpful in your quest for informed investment decisions. Remember to monitor a stock's fundamentals, financial health, industry trends, and any relevant information or events that may impact the stock price.
If you have any questions or comments, feel free to contact us via social media channels.
As always, please remember that trading involves a high risk of losing money and that you should speak with a financial advisor before making investment decisions. The information provided on StockInvest.us should not be the sole basis for your investment decisions, and any use of the information provided is at your own risk.