Making stock price predictions is not an easy task. To make accurate predictions, you need to consider several different factors. In this blog post, we will discuss some things you should look for when predicting stock prices. We will also provide some tips on how to make successful predictions. So if you are interested in learning more about stock price predictions, keep reading!
What do you need for an accurate stock price prediction?
When it comes to stock price predictions, there is no one-size-fits-all approach. The factors you need to consider will depend on the stock in question and the current market conditions. However, there are some general things that you should always look for when making predictions.
One of the most important things to consider is the company's financial health. This includes revenue, profits, cash flow, and debt levels. It would help if you also looked at the company's competitive position and ability to generate future growth. In addition, it is essential to keep an eye on macroeconomic factors such as interest rates, inflation, and economic growth. All of these factors can have a significant impact on stock prices.
Another thing to consider is the stock's technical picture. This includes factors such as price, volume, and momentum. Technical analysis can be a helpful tool in predicting stock prices. However, it is essential to remember that technical analysis is not a crystal ball. There are no guarantees when it comes to stock price predictions.
Finally, it would be best to have realistic expectations when making stock price predictions. It is important to remember that stock prices can go up or down at anytime. No one can predict the future with 100% accuracy. Therefore, it is crucial to set realistic goals and target a reasonable return on your investment.
The different types of analysis that can be used?
There are different types of stock analysis, each with its strengths and weaknesses. The most common type of stock analysis is fundamental analysis. This approach looks at a company's financial health and competitive position to predict future stock prices. Technical analysis is another popular approach. This type involves looking at factors such as price, volume, and momentum to try to predict future stock prices.
Both fundamental and technical analysis have their own advantages and disadvantages. Fundamental analysis is more long-term and can be more challenging to do correctly. Technical analysis is shorter-term oriented and can be easier to do but can also be less accurate.
Since we often use technical analysis for our algorithms, let's talk about it in more detail.
Using technical analysis.
In general, you should look at the following when you predict:
1) What is the general movement?
When stock prices are going up, this is known as an "uptrend." To predict that stock prices will continue to go up, you would look for stocks in an uptrend.
2) Is there much resistance or support at the current level?
You would also look for stocks that have resistance at the current level and support at lower levels.
3) Is stock overbought or oversold?
In addition, you would want to look for stocks that are not overbought or oversold.
4) Is volume the following price?
Finally, you would want to see if the volume follows the price. If yes, then this is a good sign that the stock price will continue to move in the same direction.
For instance, a stock that has moved many days in one direction will likely take a break or change direction for a few days. Early signs are divergence in volume or stock facing support or resistance. The predicted change should reflect the volatility in the stock. Do not expect a slow mover to move 8% unless there is some special news.
Use technical analysis and consider the factors mentioned above. You may be able to make more accurate predictions than if you were guessing.
Where to practice?
The best way to learn how to predict stock prices is by practicing. You can use a stock simulator to practice making predictions. This will allow you to test your strategies and see how well they work in the real world.
Here at Stockinvest.us, we offer our users a free and easy-to-use simulator. Our current prediction system is revolved around the community. Hence, it doesn't affect the technical analysis that has been predicted for stocks.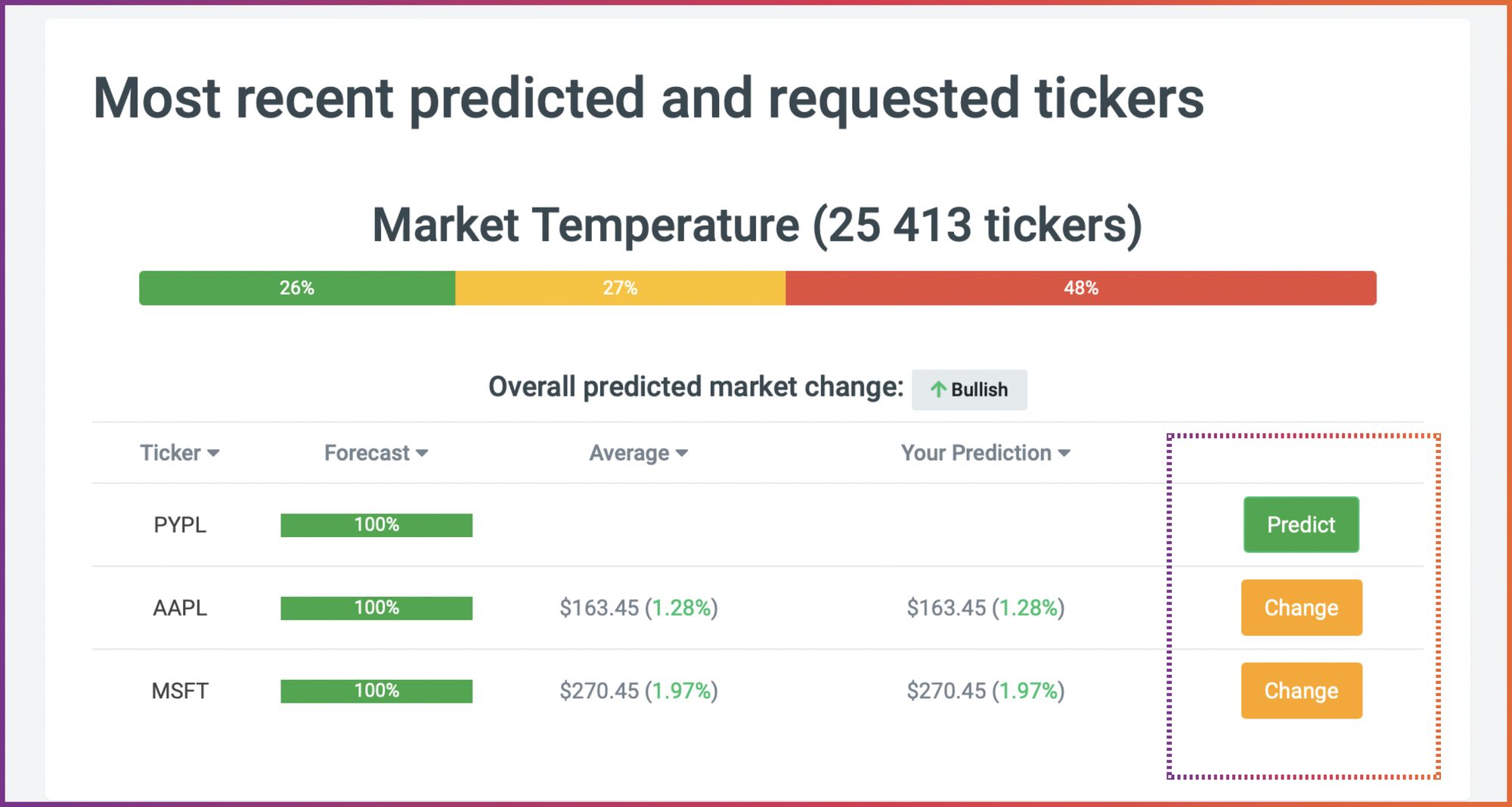 How to use:
Register on our website;
Select any ticker from the database (at StockInvest.us, we have more than 25 000 of them);.
In the Chart section, choose the "How do you feel about XXX?" widget (It expires every Monday if you do not change it during the week). Select the expected direction. To add price prediction, go to https://stockinvest.us/predictions and type the number. Predictions have to be made before 14.00 EET. All predictions made after this time will apply to the next trading day;
The results will appear 3-4 hours after the exchanges close.
Practice more often, study the patterns that are often repeated and use the information we discussed above, and you will notice the result. It will become more evident to you why analysts assume this and nothing else, how cyclicality affects price movements, and much more.
Thank you for reading! We hope that this article was interesting and informative for you. Stay tuned for more.